Toolkits
Video Otoscopes - AMD 500
AMD 500 Video Otoscope Cut Sheet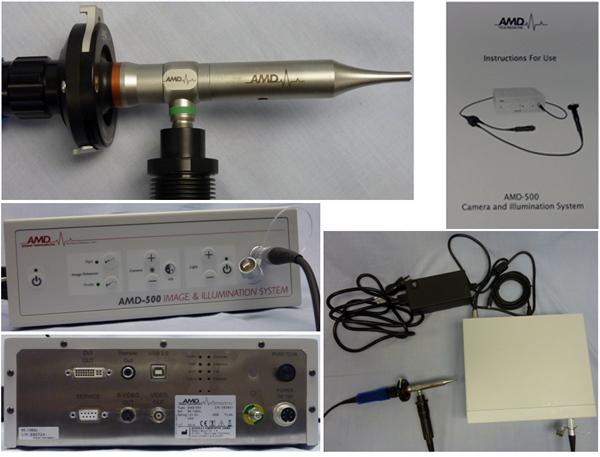 Product Name

AMD-500 Camera and Illumination System with ENT Scope attachment

Model Name/Number

AMD-500 & AMD-2015 ENT

Distributor

AMD Global Telemedicine, Inc.

321 Billerica Road

Chelmsford, MA 01824 USA

Manufacturer

Scholly Fiberoptic GMBH

Robert-Bosch-Str. 1-3

79211 Denzlingen

Germany

Warranty

12 month guarantee on the function of the product. Claims must be immediately documented and submitted within the claims period.

Product Description:

Light Source Dimensions

Camera Controller Dimensions: 255 x 93 x 211 mm (W/H/D)

Camera/Probe Dimensions

 

Number of Parts

Camera head with endo-coupler and light source cable, 2015 ENT Optics,  AMD 500 Camera Controller box & power adapter

Cables Included

Power cable, camera/light source cable

Overall Type of Video Otoscope

Probe and Box

Speculum Type

Welch Allyn Disposable

Inputs, Outputs, and Buttons:

Image Enhance for Flexible endoscopes and rigid endoscopes, Brightness control ±, White Balance, Light Intensity buttons ±, Light source on/off, power button. Outputs: 1DVI-D, 1S-Video, 1 Video Composite, 1 USB 2.0, 1 remote

Features

Image enhance, brightness control, white balance, light intensity control.

Connections

Video, PC, & VTC

Optics:

Focus

Manual Focus Ring

Zoom

None

Image Capture

None

Video:

Video Standard

NTSC & PAL (Either available, depending on unit sold)

Camera Sensor

½" CCD Camera Head Sensor.

Video Outputs

DVI, Composite, S-Video, & USB 2.0

Memory

None

Power:

Power Source

12V DC supply voltage

Power Consumption

24W energy consumption

Battery Type

2,0ACT; 5x20mm fuses required

Standards/Approvals/Safety

CE, Isolation Class I

Light Source:

Illuminator

Inline LED light source

Blub Life

>10,000 hours

Miscellaneous:

Software Description

Connects to PC by USB 2.0. Minimum PC requirements: USB 2.0, CPU>2GHz, RAM>256 MB, Windows 2000(SP4  or higher)/Windows XP (SP1 or higher)

Care and Maintenance

Visually inspect glass surfaces before use. Treat the unit very carefully; it contains sensible optical, mechanical and electronic components. Do not strike or drop the camera head.  White balance the unit to ensure correct color reproduction.

Suggested Cleaning Procedure

Machine cleaning provides better and safer results and should therefore be preferred over manual cleaning. Clean product directly after use. Refer to www.a-k-i.org for process that is hygienically safe and safe for the materials. Do not clean or disinfect in an ultrasonic bath. The camera controller is only suitable to be wiped off with a moist cloth. Do not insert the camera controller into liquids. May be wiped with a soft cloth moistened with water, a mild soap or isopropanol. Don't use scrubbing agents or dissolvers, they may damage the finishing or labels. Don't use wet cloths or sponges, excessive cleaning agents in contact with electrical parts can damage the camera controller. Only reconnect the system to the main supply when the cleaned parts are completely dry. Optical surfaces must not be cleaned with a brush, remove residue with a pad moistened by 70% alcohol or a neutral cleaning agent.

Transportation and Storage

Temperature: -20°C to 70°C. Relative Air Humidity: 5% to 95%. Air pressure: 70 kPa to 106 kPa. Store processed products in germ tight packaging and dustproof in a dry, dark and well-tempered room. Operation Temperature: 15°C to 40°C.

TTAC Evaluation Information:

Power Source For Camera

AC powered with DC power adapter brick that has on/off switch

Unit Power Source

AC powered with DC power adapter brick that has on/off switch

Power Source For Light

AC powered with DC adapter

Light Source

in line LED with fiber optic light guide

Cable Length (Measured from Otoscope Tip to Light Source)

110", data/power cable

Pediatric Use

No

Insufflation

Yes

Rod Probe Component Present?

Yes

Support Flexible Scopes

Yes

Speculum Description

Welch Allyn

Viewing Angle as Measured and Calculated by TTAC

Without speculum cover 80°,  with speculum cover on 56°

Depth of Field (Very Good, Adequate, Poor)

Very Good

Focus Ring Tension (Very Good, Adequate, Poor)

Very Good

Fine Grain Control (Very Good, Adequate, Poor)

Very Good

Lighting (Very Good, Adequate, Poor)

Very Good

General Notes On Device

Rigid scope button depressed, light source on with maximum light intensity, S-Video output. 2 cords, coupler seems awkward. Bayonet style c clamp is convenient to attach camera and optics together. Offers locking mechanism to hold barrel in place, however does not completely prevent movement, however it is adequate for normal use. Barrel solid. Light adapter connection to optics is a snap on connector, forcible connection can lead to perception of risked damage when pulled on an off. Good cable length. Focal tension/resistance on the focus ring is correct.   Larger diameter coupler in combination with 2 cord coupler affects balance while unit held in hand and could lead to difficulty in holding in smaller hands. Power box when plugged in also needs to be turned on to then power on box.  Separate power button for the light source and the camera. Buttons are soft switch with firm quality, good tactile response. Prompts to white balance on start up. Image enhance button must be pushed each time to use as VO. Retains settings on power on/off. No noise. No fan. Single cable out of the box. Can power on and off rapidly. Cannot put pediatric speculum on the cover, can't be used for pediatrics.