Toolkits
Video Otoscopes - DinoLite AMH-EAN TV
DinoLite AMH-EAN TV Video Otoscope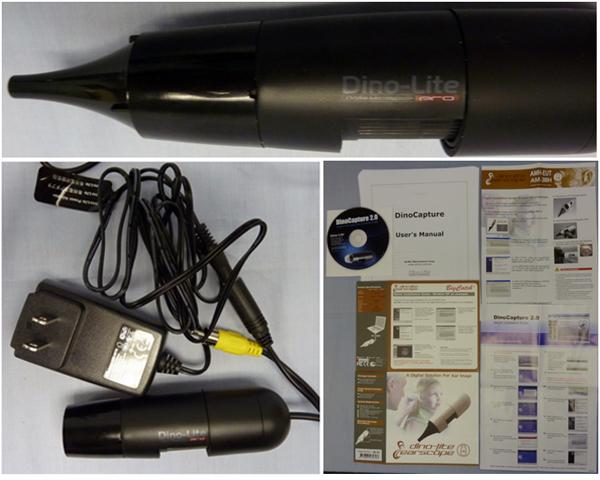 Product Name

Dino Lite Digital Ear Scope for TV analog AMH-EAN

Model Name/Number

AMH-EAN

Distributor

www.SunriseDino.com CA office

Dunwell Tech, Inc.

20655 S. Western Ave. Suite # 116

Torrance, CA 90501

Manufacturer

AnMo Electronics Corp. www.anmo.com.tw

Warranty

2 yr warranty

Product Description:

Light Source Dimensions

N/A

Camera/Probe Dimensions

11.94cm(H) x 3.2cm(D), 90g

Number of Parts

2- unit with attached cord and power adaptor

Cables Included

Attached dual S-Video Cable/power cable

Overall Type of Video Otoscope

Handheld Integrated

Speculum Type

Kleen Spec Disposable Specula (WEL52134) 4mm. Can use a 3mm, 4mm, or 5mm specula.

Inputs, Outputs, and Buttons:

S-Video, power

Features

Focus/Magnification dial

Connections

Video/VTC

Optics:

Focus

Focus dial

Zoom

55x – 90x magnification rate

Image Capture

None

Video:

Video Standard

Either NTSC or PAL version available. AMH-EAN(NTSC) or AMH-EAP (PAL).

Camera Sensor

Color CMOS

Video Outputs

S-Video

Memory

None

Power Source

Power Cord

Power Consumption

100-240V, 150mA = 15 – 36 watts

Battery Type

None

Standards/Approvals/Safety

CE

Light Source:

Illuminator

8 white LED lights

Blub Life

20,000 operational hours, 24 hours/day ~2 years +, 6 hours/day ~ 9 years, 2 hours/day ~ 25 years

Miscellaneous:

Software Description

None

Care and Maintenance

Avoid exposure to high temperatures and humidity.

Suggested Cleaning Procedure

Do not use detergent or volatile solutions. These can damage the camera case, painted surfaces, and lens. Only use a soft cleaning cloth.

Transportation and Storage

Use and storage temp 0°C - 40°C. Use and storage humidity 45% - 85%.

TTAC Evaluation Information:

Power Source For Camera

AC adaptor, Wallwart

Unit Power Source

AC adaptor, Wallwart

Power Source For Light

AC adaptor, Wallwart

Light Source

Tip LED

Pediatric Use

No

Insufflation

No

Rod Probe Component Present?

No

Support Flexible Scopes

No

Speculum Description

Proprietary 3, 4, & 5 mm specula.

Viewing Angle as Measured and Calculated by TTAC

Viewing angle without 9°, viewing angle with speculum 5°.

Depth of Field (Very Good, Adequate, Poor)

Poor

Focus Ring Tension (Very Good, Adequate, Poor)

Poor, too light, grip poor, small form factor

Fine Grain Control (Very Good, Adequate, Poor)

Very Good

Lighting (Very Good, Adequate, Poor)

Adequate

General Notes On Device

Connected by composite signal to the capture card.  Too narrow viewing angle, focus depth of field narrow (approx 3-5mm), difficult to tell which end is up, far out focus distances produce LED artifact on the screen. Images shot with speculum on unless otherwise stated. DinoLite Comments: No clear orientation of which way is up.  Focus ring tension a bit firm, but holds position well and cannot be operated with one hand. Has no indicator on focus dial of location related to position. Cheap materials, no loose parts, lightweight, easy to hold in hand. Depending on the focal length, front mount LEDS occasionally cause blooming and obstruction of the field of view.