Toolkits
Video Otoscopes - Jedmed Combo 24
Jedmed Combo 24 Video Otoscope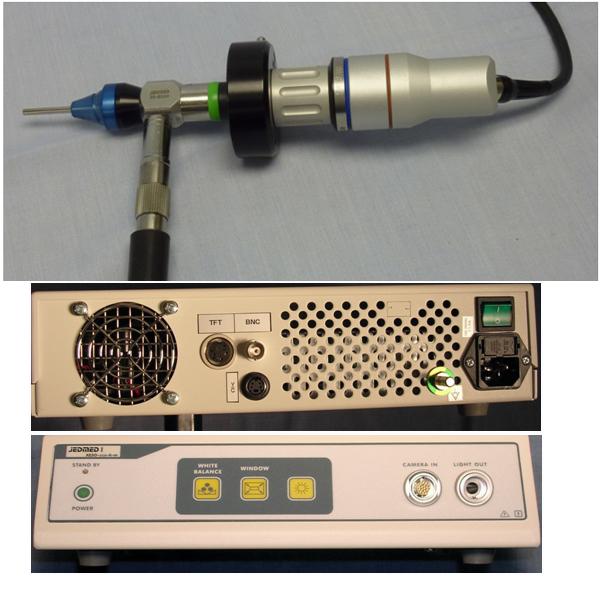 Product Name

Combo 24 Camera System with Otoscope attachment

Model Name/Number

Cat # 70-5924 & 39-8500

Distributor

JEDMED

5416 JEDMED Court

St. Louis, MO 63129

Manufacturer

Warranty

1 yr according to company warranty conditions

Product Description:

Light Source Dimensions

WxHxD 355 x 110 x 320 mm, ~4Kg

Camera/Probe Dimensions

7"L x 1 1/8" W

Number of Parts

5. Control unit with light source and camera module, camera head with cable, operation manual, video cable, and power supply cord.

Cables Included

Camera head with cable, operation manual, video cable, and power supply cord.

Overall Type of Video Otoscope

Probe and Box

Speculum Type

Welch Allyn disposable with adaptor or JEDMED reusable.

Inputs, Outputs, and Buttons:

Power switch, white balance button, window button, AGC button, camera connection, light connection, (AGC and White balance buttons pushed simultaneously are the anti-moire filter button), power button, power input, S-Video output.

Features

White balance, windowing, anti-moire filter, constant light intensity, AGC

Connections

Video, VTC

Optics:

Focus

Manual focus ring

Zoom

None

Image Capture

None

Video:

Video Standard

NTSC & PAL

Camera Sensor

1/3" shutter controlled (between 1/50 and 1/2,000,000 seconds)

Video Outputs

Composite, S-Video

Memory

Freeze memory

Power:

Power Source

115 VAC± 10% power cord

Power Consumption

70 watts

Battery Type

None

Standards/Approvals/Safety: (EN, CE, FDA, UL, CSA, IEC, etc.)

CE

Light Source:

Illuminator

24 watt xenon reflector lamp bulb

Blub Life

500 hours

Miscellaneous:

Software Description

None

Care and Maintenance

Only use with the accessories, parts and disposable items which have been designated by the manufacturer as suitable. Never look directly in the light beam of the light source. Once turned on, the light bulb should remain on at least 15 minutes, shorter periods will considerably shorten the life expectancy of the lamp.  After switching off a light sore however, it may be immediately switched on again. A waiting period or cooling off period is not necessary. See manual for procedure to change bulb, change the fuse, and troubleshoot the unit.

Suggested Cleaning Procedure

Unplug the main power supply. Only the camera head is soakable. All part of the outer surfaces of the equipment are totally insensitive to all the usual cleaning and disinfecting materials so that you can use any of them without limitations. Apply liquids using a soft cloth or soft blotting paper in order to avoid scratches on the surfaces an in order to be able to control the amount of liquid. With flammable liquids, like alcohol especially, you should apply with a cloth. Do not autoclave any part of the equipment. Do not allow liquids to enter the equipment. After cleaning with flammable liquids, leave the equipment to dry for one hour before it is switched on again. There is danger, for example, that an alcohol air explosive mixture could form after cleaning.

Transportation and Storage

Shipping weight: 5.5Kg

TTAC Evaluation Information:

Power Source For Camera

AC power with internal DC converter

Unit Power Source

AC power with internal DC converter

Power Source For Light

AC power with internal DC converter

Light Source

24 W xenon bulb in light box with fiber optic light guide

Cable Length (Measured from Otoscope Tip to Light Source)

2 meters, custom lengths available

Pediatric Use

Yes

Insufflation

Yes

Rod Probe Component Present?

Yes

Support Flexible Scopes

Yes

Speculum Description

JEDMED non-disposable, or uses adapter for WA disposable.

Viewing Angle as Measured and Calculated by TTAC

43° with and without speculum

Depth of Field (Very Good, Adequate, Poor)

Very Good

Focus Ring Tension (Very Good, Adequate, Poor)

Very Good

Fine Grain Control (Very Good, Adequate, Poor)

Very Good

Lighting (Very Good, Adequate, Poor)

Very Good

General Notes On Device

Test images were captured with Window 3 Integral button engaged, with no AGC, Boost Max. Connected by composite video signal to IMPERIX capture card.

 

Device feels good in the hand – well balanced and easy to manipulate. Uses a standard C coupler. Can use a fiber optic scope with unit.

 

Has a white balance button, window button, and AGC button. Combo window and AGC is anti-moiré button. Light intensity not adjustable. Buttons are soft switches with firm quality, good tactile response.  Proprietary 24 W xenon bulb, multi-hundred dollar cost for replacements. Nice focus ring tension. Separate light and camera cable, camera cable uses locking collar attachment.  Buttons are soft switches. Size of the light box normal for industry.  Has built-in fan. Power switch located on the back of the box, with a standby button on the front.