Toolkits
Video Otoscope - RF Systems ME-16 USB
ME-16 USB Video Otoscope Cut Sheet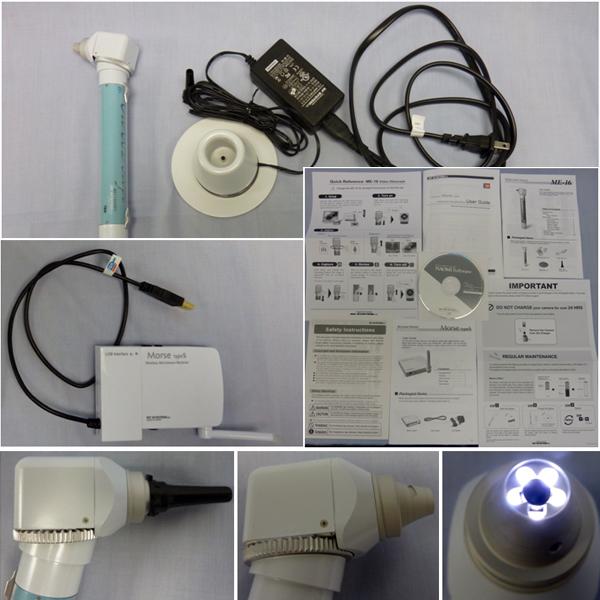 Product Name

ME-16 Wireless Video Otoscope with USB interface Morse Type S

Model Name/Number

ME-16

Distributor

RF System Lab

3 Nakagosho,

Nagano City,

Nagano, 380-0935, JAPAN

Manufacturer

RF Systems Lab

Warranty

1 yr manufacturers from the date of purchase

Product Description:

Light Source Dimensions

N/A

Camera/Probe Dimensions

(WDH) 110 x 79 x 15 mm / 4.4" x 3.1" x 0.6", 89g

Number of Parts

4- unit, recharging stand, power cable, USB Morse Type S receiver with USB cord attached.

Cables Included

Attached USB cable and power cable attached to recharging stand cable/adaptor.

Overall Type of Video Otoscope

Handheld integrated with separate transmitter

Speculum Type

Welch Allyn disposable and reusable

Inputs, Outputs, and Buttons:

Operating button and review button

Features

Focus adjustment, brightness level adjustment

Connections

PC

Optics:

Focus

Adjust focus ring manually.

Zoom

None

Image Capture

Button on hardware, within software

Video:

Video Standard

NTSC/PAL

Camera Sensor

1.36 Megapixel CCD

Video Outputs

Wireless

Memory

Can capture up to 16 images internally.

Power:

Power Source

Charger with power cord

Power Consumption

570 mA

Battery Type

Internal, rechargeable. *Note battery lasts 1-2 years with normal use per manufacturer

Standards/Approvals/Safety:

None

Light Source:

Illuminator

5 white LED

Blub Life

Semi-permanent life length

Software Description

USB drivers and NOAMI capture software. Images can be captured, saved, annotated, displayed, enhanced and edited using the software.

Care and Maintenance

Do not expose to the following conditions: Excessive heat or coldness, water, wide temperature differences which cause condensation, close to heat-generating devices, excessive dust, on an unstable table or sloping unit, direct sunlight, humidity, or vibration. Fully charge battery once and when it has not been charged for long periods of time. Do not overcharge, overcharging can cause fire and damage the product. Switch off the power when unit not in use for long periods of time.

Suggested Cleaning Procedure

Use a soft cloth to clean the casing. Do not use thinners, benzene, alcohol or solvents since it could damage the surface. When heavily soiled, use a soft damp cloth with a standard diluted dishwasher detergent, and then wipe with a soft dry cloth. Camera/lens-wipe with a dry cloth. Do not spray any liquid directly on the unit.

Transportation and Storage

 None

TTAC Evaluation Information:

Power Source For Camera

Battery powered (AC converter DC converter brick attached to charging base)

Unit Power Source

Battery powered (AC converter DC converter brick attached to charging base) Wireless receiver power supply is USB .

Power Source For Light

Battery powered (AC converter DC converter brick attached to charging base)

Light Source

Tip LED

Cable Length (Measured from Otoscope Tip to Light Source)

No cable, wireless

Pediatric Use

Yes

Insufflation

No

Rod Probe Component Present?

No

Support Flexible Scopes

No

Speculum Description

Welch Allyn

Viewing Angle as Measured and Calculated by TTAC

Viewing angle same with speculum cover on and off = 13°

Depth of Field (Very Good, Adequate, Poor)

Poor

Focus Ring Tension (Very Good, Adequate, Poor)

Poor, slips easily

Fine Grain Control (Very Good, Adequate, Poor)

Adequate

Lighting (Very Good, Adequate, Poor)

Adequate

General Notes On Device

Brightness level adjusted for images. Morse USB adaptor attached to PC. Used Otoscope software to capture images. Terrible icons, terrible buttons. Focus dial tension too loose. Shallow depth of field. Buttons rattle when unit moved. Slide buttons with indistinct endpoints. Buttons feel flimsy. Unit has blue LEDS that light up when the unit is powered on. Wireless. Has brightness adjustment. Has digital zoom.  USB receiver: RF signal strength must be matched. Antennae should be at 90°.