Toolkits
Video Otoscopes - Sometech Dr. Camscope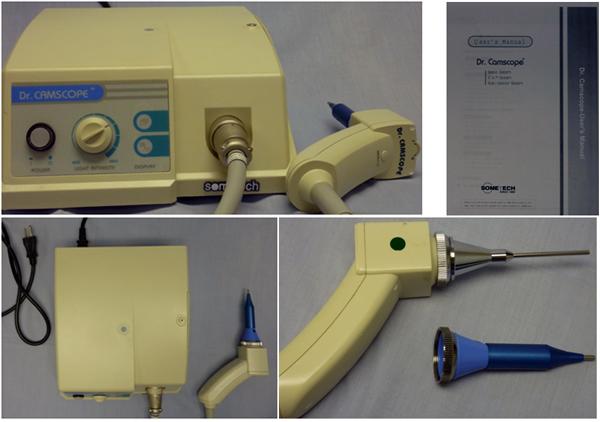 Product Name

Dr. Camscope

Model Name/Number

Dr. Camscope  DCSM (XGA) / DCS-104T

Distributor

Second Opinion Telemedicine Solutions, Inc.

3848 Del Amo Blvd., #303

Torrance CA 90503

Manufacturer

Sometech Inc.

2F, Byucksan Digital Valley III, 212-13, Guro-Dong, Guro-Gu, Seoul 152-050 Korea

Warranty

1 yr

Product Description:

Light Source Dimensions

209W x 250D x 101H mm and weight  3 Kg

Camera/Probe Dimensions

 

Number of Parts

3-Light source, camera, Second Opinion camera adaptor

Cables Included

Probe, power adaptor, power cable, HDMI/DVI cable, foot switch

Cable Lengths

2M, weight 2Kg

Overall Type of Video Otoscope

Probe & Box

Speculum Type

The SOMETECH product has a long metal rod, covered at the end with a plastic ear protector-setup is unsafe for patient use.

Second Opinion has designed an adaptor that covers the metal probe and allows for Welch Allyn disposable speculum use with the unit, making the unit safe for patient use.

Inputs, Outputs and Buttons:

Power switch. Light control knob, Full image display button, quad display button. Camera cable connector. S-Video out, Video out (composite), foot switch connector, power inlet. On Scope Handle: Focus knob, MEM/LV button.

Features

AGC Auto on/off, White Balance (fixed), foot switch for image acquisition, adjustable light intensity.

Connections

Video, VTC (with composite or S-Video signal)

Optics:

Focus

To control focus. For far distance, rotate dial towards the F and for near rotate the dial towards N. Dial located on the probe.

Zoom

N/A

Image Capture

Button located on the probe, CAPTURE button on the light source, or foot switch.

Video:

Video Standard

Either, depends on the unit purchased.

Camera Sensor

1/3" SONY super HAD COD

Sensor Resolution

NTSC 768x494, PAL 752x582

Video Outputs

Composite, S-Video, XGA

Memory

4 images

Power:

Power Source

90-130VAC or 180-260 VAC, 47-63 Hz

Power Consumption

 

Battery Type

 

Standards/Approvals/Safety:

 

Light Source:

Illuminator

100W Halogen lamp by SOMETECH, 3400°K color temperature, minimum illumination 2 lux

Blub Life

 

Miscellaneous:

Software Description

 

Care and Maintenance

Do not use near a wet place and avoid the water. Continuous use can cause endoscopes surface temperature to exceed 41°C and may cause burns.  Don't stare directly at the light, may cause eye damage. Do not install near wet places. The tip of the endoscope may be too rough/dangerous to insert into the human body. Change the lamp after it has cooled and wear gloves while changing.

Suggested Cleaning Procedure

Clean the lens after every use with soft materials such as cotton swab or alcohol pad. Camera lens can be cleaned with quatemary ammonium, 70% isopropyl alcohol, 10% chlorine bleach, and PDI sani-system.

Transportation and Storage

Proper Conditions: Temperature 10°C to 40°C, Humidity 30% to 75%, Air Pressure 70kPa to 106kPa. Store in an area suitable for electronics, avoiding bad effects from temperature, humidity, sunlight, dust, sulfur components and so on.

TTAC Evaluation Information:

Power Source For Camera

AC power with internal DC converter

Unit Power Source

AC power with internal DC converter

Power Source For Light

AC power with internal DC converter

Light Source

Halogen bulb in light box with fiber optic light guide

Cable Length (Measured from Otoscope Tip to Light Source)

Fiber optic light and data cable, 82"

Pediatric Use

Yes, with proprietary attachment

Insufflation

Yes, with proprietary attachment

Rod Probe Component Present?

Yes, with proprietary attachment

Support Flexible Scopes

No

Speculum Description

Welch Allyn

Viewing Angle as Measured and Calculated by TTAC

52° with and without speculum

Depth of Field (Very Good, Adequate, Poor)

Adequate

Focus Ring Tension (Very Good, Adequate, Poor)

Poor

Fine Grain Control (Very Good, Adequate, Poor)

Adequate

Lighting (Very Good, Adequate, Poor)

Very Good

General Notes On Device

Capture card, blue tip, WA speculum cover attached, focus noted as limited after 1 cm away, must be completely on far focus.  Gets hot in the hand. Focus difficult to control. Second opinion has designed a well thought out probe cover that fits over the existing probe design. Ability to do pneumatic insufflation with second opinion probe cover only.  Fan that is louder. Rotating dial for light intensity. Clean on/off button. 2 soft buttons on the light box with vague purpose. Cable has a threaded collar, fairly hard to insert and remove. Rheostat light intensity control. Mem/live button supports a freeze capability. Supports a foot switch capability. Reasonable size light box, with dated appearance. Fine grain control possible, however looseness of tension makes device.